This is a guest post by Jarrod Drysdale — a web designer and bootstrapper who recently broke five figure sales for his ebook that teaches bootstrappers do-it-yourself design principles and strategies. He's worked for startups, financial companies, movie studios, and consumer brands at agencies and as a freelancer. Here, Jarrod analyzes why his value pricing strategy earned more money with fewer sales than the pricing strategy described in last week's post.
Sacha just wrote about his pricing strategy last week on this blog, and shared that he earned $6,663 for 1,476 sales in 48 hours. In the same amount of time, I earned $8,753 for 242 sales.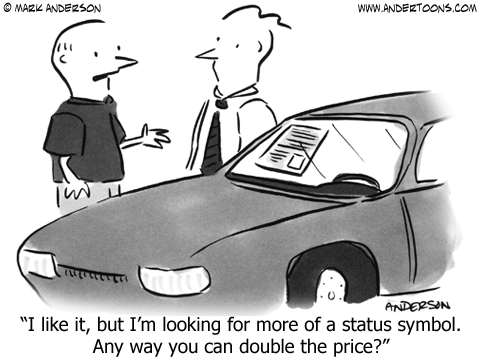 The coincidence that Sacha Greif and I both launched our design eBooks (Step By Step UI Design & Bootstrapping Design, respectively) on the same day presents a unique opportunity for a case study. We employed significantly different pricing; at launch, my book cost $39, and Sacha's cost $3-6.
The difference in our numbers is astounding. Sacha achieved more than six times as many sales but still earned less money.
Our strategies were very different. Sacha wrote a book and priced it relative to the cost of other books, which is the strategy just about everyone follows. Instead of that, I wrote a book and priced it based on the value it provides.
Choosing a pricing strategy based on competition is a natural approach, but also a flawed one. Price competition implies scarcity—supply and demand market forces. There is no scarcity for ebooks because digital files are replicated practically for free. And let's face it: when learning about a topic, we often buy more than one book about it. I've heard from several customers who bought both mine and Sacha's books. So, market forces might now matter when it comes to pricing an ebook.
Competition on price also implies that the content of your ebook doesn't matter. Following this flawed assumption, customers would rather buy the cheapest ebook because they just want a deal and don't care about what's inside. This just isn't true; tech professionals are looking to learn about design, not grab the cheapest book available. Every book contains unique ideas and benefits.
If you begin a business by thinking about price, you have already lost. Customers do not buy because of price; they buy because of the value they receive. Without value, the equation is broken.
So instead, price should be a consequence of value. When creating products, we should first focus upon the customer, what they need, and how we can provide value. Then, we should learn what our solution is worth to them and charge accordingly.
In his post, Sacha writes:
Intuitively, we tend to see prices as a consequence of a product's inherent worth, and marketers everywhere want to keep it that way.
He's missing the point about value. I'd argue that humans are completely unable to understand inherent worth. We understand value by context.
Indulge me for a moment: say I have two pieces of paper I'd like to sell you. Upon the first, I've drawn a map to where I've buried $1000 in cash in an empty field. Upon the second, I've written a recipe for chocolate chip cookies. How much would you be willing to pay for each? Which piece of paper would you pay more for?
Obviously, you'd pay anything less than $1000 for the first piece of paper because any amount less is pure profit. (Although $999 might not be worth your time if you have to dig.) For the second, you probably wouldn't pay a dime, and I'm willing to bet it's not because you dislike cookies.
We understand a product's value in many ways, but none of them are intrinsic. We might see a product as valuable if it saves us thousands of dollars, or if it helps us avoid doing some task we dislike. In each case, we judge the product's worth based upon what it gets us, but not upon what it is.
Another point implied in Sacha's post is that lower prices always mean more sales. Put conversely, higher prices always mean fewer sales. Is this really true? Who can say? This claim is flawed because pricing isn't the only factor that affects purchasing decisions. The decision process is incredibly complex and is different for every product and every individual customer. Customers consider many factors beyond pricing, such as: value, savings, quality, taste, and needs. Sometimes a feature makes the decision. Sometimes the style of the product doesn't fit your taste. In his post, Sacha even mentioned an example where higher prices meant more sales, but didn't explain why that didn't make sense for his product. So, when considering a price for your own product, don't assume a higher price will automatically inhibit sales.
However, even if, for the sake of argument, the converse is true—that lower prices do bring more sales—is that really an advantage? Sacha wanted a larger customer base for upsells and new products. However those customers are already primed for a specific price range. Selling a substantially higher priced product to those same people is probably unlikely. Plus, starting out with a higher price does not exclude you from making upsells and new product sales too. For example, I've already had several customers ask when my next ebook is coming out!
I'd argue that my lower sales count is not because of price, but just because not as many people know who I am. Although the correlation is somewhat indirect, as of this writing, I have 566 Twitter followers, and Sacha has 3,824. I had a narrower reach and a smaller starting customer base, so I made fewer sales.
If you have a narrow reach — like me — a higher price makes more sense. Higher profit offsets lower volume. Can you imagine a low profit margin at low volume? It sounds painful. Plus, if those higher profits continue at scale, that's just damn exciting.
Sacha also writes:
…thanks to the App Store, people are now used to paying out small, "less-than-a-coffee-at-Starbucks'" amounts. But I also knew anything over $10 would trigger different psychological mechanisms.
He implies that the psychological effect of passing the $10 threshold is negative. I'd argue that a higher price filters your customer base down to the serious ones—the customers who become fans and evangelists. The people who really value what you have to say, and will tell other people about it. I'd much rather have one such customer who I found by charging $39 than 13 less enthusiastic customers who feel my product is as disposable as a cup of over-roasted coffee. That one customer will do much more to help build my new business.
Also, do you really want a business that is subject to "impulse buys?" I'd rather have a business where I understand why customers purchase. My ebook is for professionals who are serious about what they do. They understand the value I offer, and they have money to pay for it. Impulse has nothing to do with it.
Why can I sell an ebook for $39? Because I'm not selling an ebook—I'm providing a valuable solution to a difficult problem.
$39 might seem like a lot when you compare my ebook to others. But those other ebooks have nothing to do with the problem mine solves. The comparison is irrelevant. Bootstrapping Design teaches startup founders DIY design—it's an alternative to hiring a designer or buying templates, logos, and other stock design. On the website, I compare spending thousands of dollars and hiring a designer to buying an ebook. If the ebook really delivers on that value, what should the price be? Any product that saves you hundreds or thousands of dollars is easily worth a $39 price tag. The price is a no-brainer because my ebook kills a lot of painful problems and can drive a wide margin of savings. Saving money is saving money—it doesn't matter if there is an unrelated product out there that costs less.
I learned almost everything I know about pricing from Amy Hoy while taking her 30×500 launch class. In an excellent blog post about low prices that I have reread many times, she writes:
Charge a higher price, earn more from fewer customers, and serve those few customers better with your limited resources (e.g. your time). Go for the margins, don't go for broke.

Be like Apple: with 4% of the mobile phone market, they have nearly 50% of all profits.

That's a great place to be.
(Since Amy's post, Apple's numbers have increased to 75% of profits with 9% market share, which only further supports her point.)
Higher profits do let you serve your customers better. Just ask mine. I have time to respond to emails from every single customer personally and give design advice freely. The reply-to header on my email newsletter goes straight to my personal inbox.
I have to make a lot fewer sales to earn the same amount of money as Sacha. I've learned that the value my eBook provides is worth that price to plenty of people, and 242 is just a tiny fraction of my audience. 2500 people are subscribed to said email newsletter, and even that is still just a tiny fraction of the audience.
With these numbers, I can't afford to compete on price. The feedback so far is resoundingly positive—my customers are happy with the value they get from my ebook.
The price? Well, hardly anyone has mentioned it.
For further learning about pricing, read these books:
Priceless: The Myth of Fair Value (and How to Take Advantage of It)